GameDay Notes

VOLLEYBALL
VARSITY
Head Coach - Matt Heyl (5th Season: 95-65)
Varsity Roster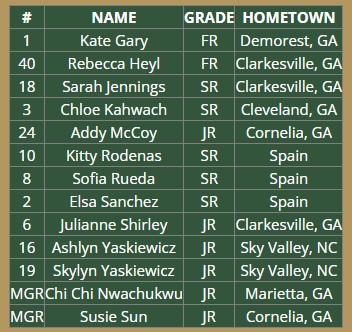 Season Preview
The Lady Indians are coming off a second straight Sweet 16 run, and have made the state tournament seven years in a row. Last season, the girls went 23-12, were region runner-up, and took down several top-10 ranked teams. Senior Sarah Jennings returns for her last season, and is about 200 kills shy of the school career record, and is fourth in digs and fifth in aces. The two-time 1st Team All-Region member will lead a team that includes veterans Kitty Rodenas and Addy McCoy. The Lady Indians lost seven key seniors from last year's team, but have plenty of players set to step up and fill those gaps. Coach Matt Heyl is five wins shy of 100 at Tallulah Falls. This season sees TFS enter into a new region after the major reclassification by GHSA prior to 2022-23.
About the Opponent (August 9) - Stephens County & Monroe Area
The Lady Indians of Stephens County were 7-18 overall last season and 4-5 in region play. They compete in Region 8-AAA, and have a new head coach this season in John LaFevers. They return three key players from last season - My'Angel Carter, Kiara Lopez, Allie Brock. Meanwhile, the Monroe Area Lady Purple Hurricanes went 9-31 overall last year, including a 1-9 mark in 8-AAA. Monroe Area returns basically all of its starters from a year ago, minus its lone senior.
Seasons of Significance
State Playoffs
Sweet 16 – 2018 • 2020 • 2021
Rnd 1 – 2015 • 2016 • 2017 • 2019
Region/Area Titles & Runner-Up
Runner-Up – 2018 • 2019 • 2020 • 2021
School Records
KILLS: Single Match (28 - Sarah Jennings 2021) | Single Season (350 - Katy Corbett 2019) | Career (852 - Katy Corbett '21)
DIGS: Single Match (27 - Katy Corbett 2020) | Single Season (394 - Lillie Free 2019) | Career (981 - Katy Corbett '21)
ACES: Single Match (15 - Kate Blackburn 2017) | Single Season (97 - Kate Blackburn 2018) | Career (237 - Kate Blackburn '20)
ASSISTS: Single Match (46 - Allie Dalton 2021) | Single Season (754 - Allie Dalton 2021) | Career (1,533 - Allie Dalton '22)
BLOCKS: Single Match (6.5 - Sydney Porter 2015) | Single Season (44.5 - Ashley Crosby 2017) | Career (90 - Ashley Crosby '18)
More Information
Program History/Records · Action Photos · Team/Individual Photos · Next Level Players · Ticket Information · Spirit Wear
Social Media: Facebook · Twitter · Instagram
JUNIOR VARSITY
Head Coach - Tykia Thompson (1st Season)
Junior Varsity Roster
FULL ROSTER COMING SOON!
Rebecca Heyl
Kate Gary
Katerina Foskey
Julia Smith
Caroline Smith
Kaylin Pickett
Chesney Tanksley
Kiersten George
Sarah Lundy
Jace Ibemere
MIDDLE SCHOOL
Head Coach - Jo Kimbrel (1st Season)
MS Roster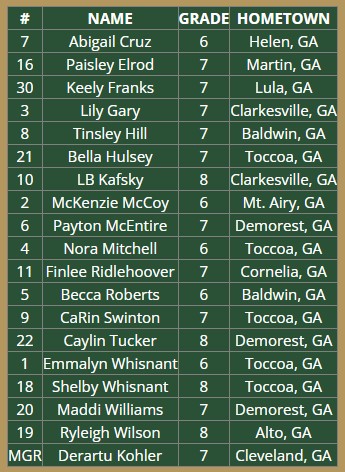 Season Preview
The Lady Indians MS team had great success last year despite having a young and inexperienced roster. The A-Team was 12-5 and the B-Team was 4-3-3 in 2021. With four eighth graders back this season - LB Kafsky, Caylin Tucker, Shelby Whisnant, and Ryleigh Wilson, the 2022 team has great leadership in place. The team as a whole is once again young, and will open the season with a Preseason Jamboree at Habersham Central (against Trinity Classical, Stephens County, and Rabun County) on Saturday, August 13.